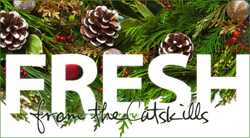 Pledge to Buy Local on Small Business Saturday
Will you shop local on November 30? Spread the word and pledge to support your local farms, artisan studios, restaurants, and specialty food markets throughout the Catskills Region this holiday season! Check out the Pure Catskills Holiday Gift Guide for ideas to get you started.
Visit our event on Facebook and click "Going" if you're shopping local on Saturday, November 30. It's as easy as that! Feel free to leave a comment on how you plan to "shop small" in our event comment section.
Pure Catskills is a buy local campaign aimed at supporting the local food community in the Catskills region. We work with hundreds of farm and food businesses throughout Delaware, Greene, Otsego, Schoharie, Sullivan and Ulster Counties in New York State. Our program also partners with numerous regional organizations that support agricultural economic development in the Catskills region.
Watershed Headlines

October 2, 2011
Educational Tool
Fall 2011
May 25, 2011