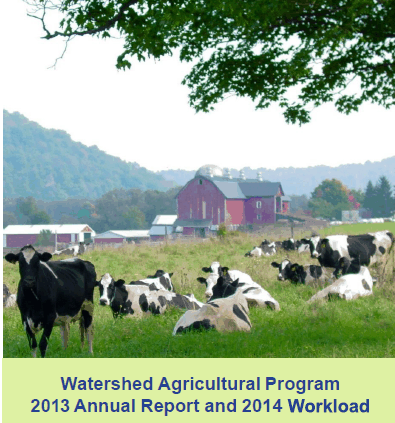 Watershed Agricultural Program Annual Report 2013

The Agricultural Program and its partner agencies released its 2013 Annual Report and 2014 Workload Report. Inside, you can find historical perspectives on the Agricultural Program's CREP and Best Management Practices implemented to date, money spent and invested in local communities through these third-party-fulfilled construction projects, and before-and-after photos of the water-quality improvement measures put into place over the last year.
If you have questions about the report, contact Agricultural Program Manager Larry Hulle at (607) 865-7090.
PIGS FOR PROFIT
10 a.m. – 3:00 p.m. (both days)
May 1: Trout Creek Town Hall (tentative)
Trout Creek, NY & Thornwood Farm
May 2: Three Delhi Farms
(sign-in begins at 9:30 a.m.)
MAY 1st Topics:
 Selecting a Breed
 Housing, Feeding & Managing Swine
 Swine Health
 Meat Cuts for Pork

May 2nd Farm Tours & Discussions:
From Farrow to Finish:
Jay Wilson, Maple Shade Farm and Gideon Frisbee, Riverdale Farm (Delhi)

Pasturing Pigs
Ann VanArsdale, Manager, High Meadows Farm (Delhi)

Pre-registration & pre-payment are required.
Fee is $10 per person. Beverages provided but bring your own bag lunch. FMI: (607) 865-6531 or e-mail Janet Aldrich, CCE-Delaware.
Watershed Headlines

October 2, 2011
Educational Tool
Fall 2011
May 25, 2011