Pure Catskills is your one-stop source for where to eat, drink, shop, stay and play in the Catskills. When you make a purchase from a Pure Catskills member, you're also doing your part to preserve the working landscapes of the region, promote clean water and ensure small communities in the Catskills thrive. Here's a snapshot of how shopping local helps ensure that nearly nine million New York residents have access to clean water and food: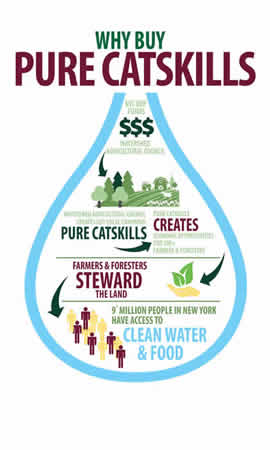 Protect Working Landscapes throughout
the New York City Watershed
With the help of 130 landowners, the Council protects over 24,000 acres of working farmland through conservation easements. Our goal is to add another 10,000 acres through conservation easement. This protection ensures these working landscapes in farm and forest will remain so for future generations.
To keep these natural resource-based industries in place, we need your help in building a robust endowment fund that will protect these vital lands. Together we protect water quality for over nine million New Yorkers, valuable farmland for the food supply and forested lands for recreational and personal use..
Watershed Headlines

October 2, 2011
Educational Tool
Fall 2011
May 25, 2011

Catskills CRAFT is an educational networking group for beginning and experienced farmers.

Buy from a Pure Catskill farmer and contribute to the future of our food system.

Strengthening Sustainable
Communities in a Working
Landscape.

An e-commerce portal through which members can market products to millions of online shoppers.