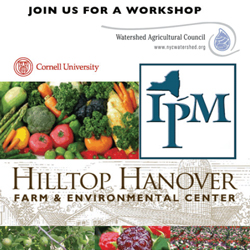 Integrated Pest Management for Fruits, Vegetables, Nurseries & Greenhouses
Barn F, 1275 Hanover Street, Yorktown Heights 10598
Tuesday, May 21
9:45 a.m. - 3 p.m.
Cost: $25 includes local foods lunch
Sponsored by WAC, Cornell University
FMI: Patti Shulman (914) 962-6355
Keep your fruits, veggies, ornamentals and orchards safe from hungry bugs, invasive weeds and biological impacts through Integrated Pest Management (IPM). Integrated Pest Management for Fruits, Vegetables, Nurseries & Greenhouses Workshop is a collaborative event hosted by Hilltop Hanover Farm & Environmental Center, presented by Cornell University and sponsored by the Watershed Agricultural Council with funding from New York City Department of Environmental Protection and U.S.D.A.
Catskills CRAFT Meeting Season Opene
Channery Hill Farm, 77 Keller Road, Callicoon Center  12724
Thursday, May 30
7 p.m. - 9 p.m.
Cost: Free
Farmers Jen McGlashan and Kai Brothers host the  group's kick-off meeting with a potluck and discussion of food systems with students from EcoPracticum, sponsored the Council and Catskills CRAFT.
FMI: Contact Eleanor Blakeslee-Drain, Farmhearts Fellow (607) 267-0184; transportation available
Watershed Headlines

October 2, 2011
Educational Tool
Fall 2011
May 25, 2011